Welcome to bayareakiteboarding.com
San Francisco Bay Area kiteboarding safety, access, information, reviews, forums, and classifieds.

Alameda/Crowne Beach
Alameda kiteboarding guidelines can be
viewed here.
Location and directions can be found at the East Bay Regional Parks page which can
be viewed here.
Photos showing the hazards can be viewed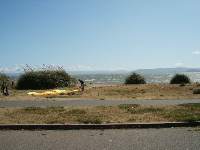 "Alameda is the best location I've seen in the world to learn to kiteboard"
Christo Tasti, kiteboard world champion
Many good things can be said about Alameda as a kite-boarding destination. Generally mild conditions and friendly community spirit await the kite boarder. An array of park facilities are available making Crown Beach a great family getaway. With its location in San Francisco bay, Alameda enjoys nice weather year around.
Crown Beach is a sandy oasis in the rock lined bay area. The launch/land area sits on the point of Crab Cove. A beach shack marks the location of the designated launch area and many kiters congregate during good days. Two miles of down wind beach allow kiteboarders safe haven to come ashore. Few hazards are known in the waters off Alameda, the most prominent have been clearly marked by locals.
Winds vary seasonally and are known as the mildest in the San Francisco Bay Area. The "season" extends from spring to fall with kiteable days to be had year around. Mild thermal winds are generated from cold waters off San Francisco. In peak season fog spills over "The City" drawn by hot conditions in the East Bay. Warm winds in the range of 10 to 15 mph fill in each afternoon when conditions prevail.
Extreme conditions are rare at Alameda and are confined mostly to storm events. During strong storms Alameda's placid waters become roiling white water. South winds cross thirteen miles of bay water generating chop up to three feet. Onshore winds coupled with powerful gusts make for potentially dangerous conditions, leaving only advanced and foolhardy kite boarders on the water. Lots of jumping and spectular wipeouts attract "gawkers" to the mayhem. Easterly winds of great strength are rare, and offshore conditions make them unridable. Hot easterly winds are very turbulent and the few kiters that have attempted these conditions met disastrous results and required rescue.
Considered safe for learning, Crown Beach has been the training ground for many bay area kite boarders. A school operates out of the shack in summer training lots of newbie's. Beginner to intermediate lessons are available, but reservations are a must!
A number of traveling professional kite boarders have visited Alameda beach showing locals the hottest new tricks. Some pros came to Alameda to learn the advanced technical tricks now required in the highly competitive world circuit.
In response to the growing number of kiters using Alameda beach, local riders and the park system developed mutually acceptable kiter guidelines. † The beach can become congested so kiters need to work together to keep things flowing smoothly. Downwind kiters coming ashore often find crowds of beach users and shallow conditions encourage lots of swimmers and waders. Avid kiters encourage strict adherence to the posted guidelines on "The Shack". Irresponsible behavior threatens restrictions on kiting. Please remember "kite boarding is a privilege not a right"!
Contributed by L.M.G., 2004
here.