Here's some pics from Pt. Emery Tuesday when Flash Austin and the Windwing crew came out to ride, show some kites and have a beer afterwards. The pics aren't of him riding, but I was out at the same time as him...sorry.
Disclaimer:
I am sponsored by Windwing and am stoked about their kites and have a blast flying them. With that said, know that it doesn't make this a Windwing-centric forum. Equal representation among all brands is encouraged to better serve the community and all are welcome; that is what this site is all about. Just a reminder!
I was stoked to see Flash ride as I've heard so much about what a cool, humble and mellow guy he is, but also about his legendary riding. L.M.G. said it all as reposted here from iKite:
"I look forward to seeing Flash again. He is the original "super competitor". For a while he won almost every major contest held in the world. His riding is stylish, diverse and masterfull. BUT his trickery in combination with awesome power is what makes him legendary to me. He still holds the record for highest/narlyest air I've ever seen. 60 plus feet( straight up!)- doulble forward roll (one going up-one coming down)- buttered landing at amazing speed. GET THIS: At two points in this jump his kite must have been less them 30 degrees over head (massive sweeps) WHILE he rolled at least 40 feet up! How would you like to be 40 feet high and look to the horizon only to see your 8m kite traveling by at 50mph? WHOA WEE!! Top competitors were in total AWE!!!
L.M.G. "
It was uncertain if the wind was going to cooperate, but it showed promise around 2pm, so by 3pm or so, we had a great turnout as folks started showing up and left the parking lot fuller than I've ever seen it, with some people parking wherever they could.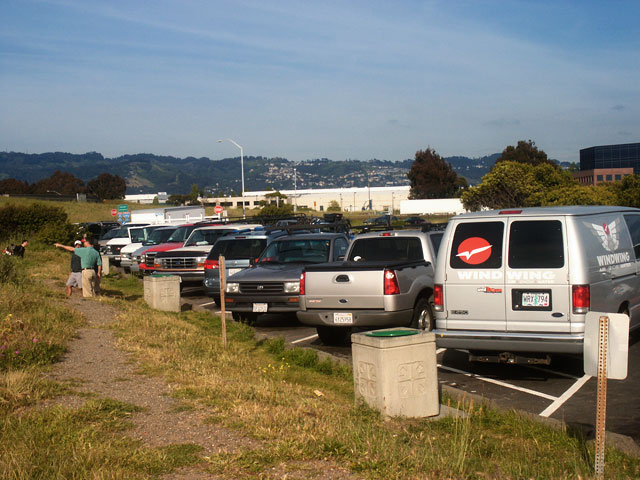 Here's a pic of Flash rigging up with Joe Cool looking pretty comfortable on the beach. We all headed out on 12's and 14's and had a solid 2 hour session. Flash spent the first half hour or so throwing down so very stylish moves close-in to the launch before heading out to do some sailing.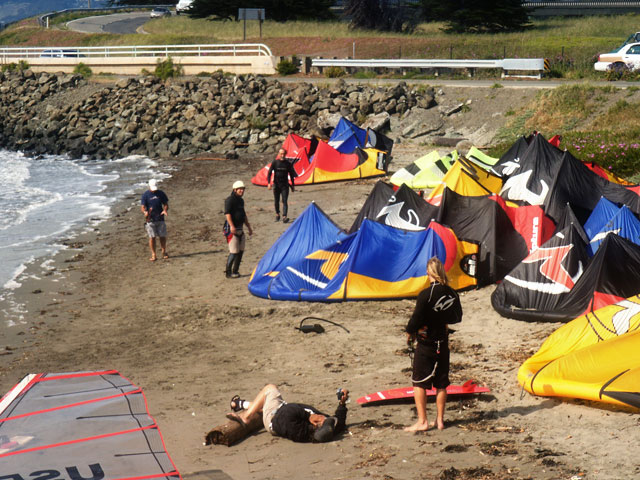 As you can see, not a lot of room here! Instant and strong upwind capabilities are a must. Much of the challenge often lies in getting out. Once you're out, providing that the wind doesn't die off (The Berkeley Shutdown), it's can be pretty good.
The wind did lighten up a bit and we all came in, but Flash was still way, way upwind and somehow managed to shoot downwind about a mile and land on the beach as if it was no trouble at all. Sometimes it's fight to get back, but he made it look as if it was still windy.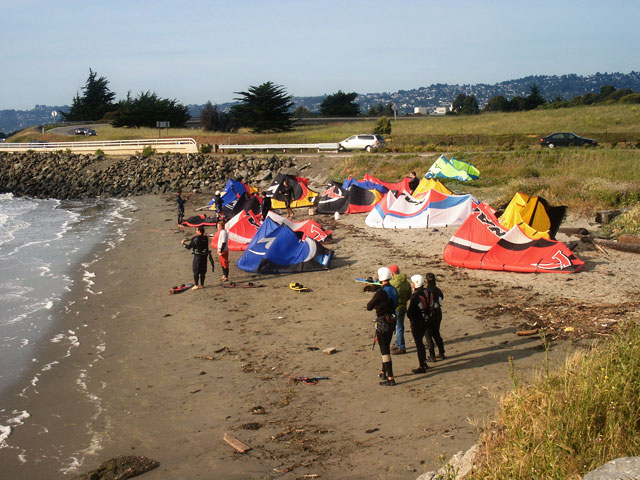 Afterwards, most people hung out for a bit and had a beer or two and enjoyed the view. It was lots of fun, thanks to everyone who came out, and special thanks to Flash Austin and John B. from Windwing! Flash will likely be in town for a few more days, so keep an eye out, you may see him if it gets windy.