[align=center]

[/align]
Some time ago, in November I think, I planned my first trip dedicated exclusively to kiteboarding. No other plans, no wife, nothing - just me, a board and four kites were going to head to Costa Rica to kite from January 7-14, 2005. Chances of getting skunked were basically nil, so needless to say, I was pretty stoked. I had heard good things about Playa Copal (Bahia Salinas), Costa Rica from my friend Jeff, who runs
KiteWindSurf
, a local shop in Alameda here in the San Francisco Bay Area. He had spent some time there last year during the winter when there's not much kiting to be had here in the SF Bay Area and activity at his shop is fairly dead. Rather than spend the winter doing a whole lot of nothing, he and his wife, Emily, were going to offer instruction and accomodations in Costa Rica, at Playa Copal. Not needing instruction, I just made arrangements to stay with them in the Kitehouse there for the duration of my stay.
I arranged for my flight through Continental Airlines and left from San Francisco to fly into Houston and from there to Liberia. To visit Costa Rica you need a valid Passport from your country of residence. No visas or immunizations are needed. I brought only US dollars which are fine to use as most all local shops and restaurants will offer you an exchange rate of 450 collones per dollar which is pretty much what you'll get from the bank. Buy something in US dollars and you'll get your change back in collones. I got into Liberia at about 7:30PM and Jeff and Emily were there to meet me and take me and my gear to Playa Copal, which was about a hour or so away. We stopped by a market on the way in to pick up some supplies (beer!) and continued on to the Kitehouse, had a bite to eat and a couple beers and crashed out for the night. I woke up early the next morning and was met with this view of the bay. Nice!
[align=center]
[/align]
After coffee and breakfast, it was apparent that the wind had come up quite a bit and was howling. I brought four kites with me - a 7m, 9m, 11m and 13.5m and in the end it worked out great because I had used all of them substantially and couldn't have done without any of them. The 7m was in fact brand new and I had had it for a while, but never even used it locally here in the San Francisco Bay Area or on any other trips. I was happy to have it here. I rigged up the 7m for my first session but it ended up proving to be a bit small, so I went to a 9m and returned to the 7m later that day after it came up some more. The first two days I sailed on the 7m most and also on a 9m and less so on an 11m. The conditions in the first two days were definitely tough with super strong winds that were explosively gusty at times, the result of two systems coming from different directions converging over the bay there. Normally, the winds tend to be a bit smoother as I started to find out on from the third day on.
[align=center]
[/align]
The first two days of sailing didn't encourage too much in the way of tricks or unhooked moves beyond just cruising and hucking huge air as the nuking, turbulent winds made it too risky. Afterwards, things smoothed out making everything else possible, more manageable and safe. Below, Scott Cox, a SF Bay instructor with KiteWindSurf, who's in Costa Rica for a couple months throws an unhooked Railey and there's another view of the bay from the kitehouse.
[align=center]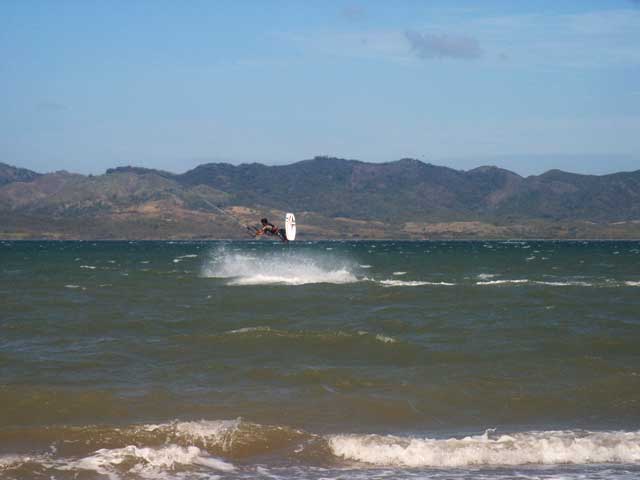 [/align]
[align=center]
[/align]
The vibe at the Kitehouse is very laid-back. In between morning and afternoon/sunset sessions which usually lasted for 2-3 hours each, we'd typically just chill on the patio, have lunch, listen to music and read. During my stay, I met some great people and saw some people I already knew as well. Jeff and Emily are the hosts of the Kitehouse and also staying there were Kent Graininger and Scott Cox, both KiteWindSurf instructors and John Fox, another SF Bay local who came down to kite. There's another outfit there offering lessons that's run by Niccola Bertoldi called Kitesurfing Center & School and Stefan works with him as an instructor. Between the two schools both offering lodging and instruction there's usually a few kiters around and most everyone tends to converge most evenings at the only restaurant which is a short walk up the hill from the beach. Ulf, an Austrian, runs the restaurant and offers good food with full dinners usually around $7-10 including a few beers, which are available self-serve from the refrigerator in the corner.
Here's a pic of the Kitehouse backyard and patio and the resident iguana.
[align=center]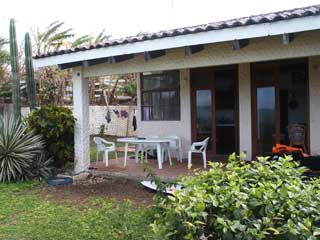 [/align]
Here's (from left to right) Scott Cox, Kent Graininger and John Fox chilling on the back patio in between sessions. All the gear is usually stored on the patio during the day, but there's no sense in leaving it all out at night, so in the house it goes. The iguana took a liking to one of john's kites, maybe for nesting purposes.
[align=center]
[/align]
[align=center]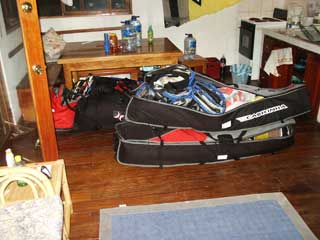 [/align]
One day brought some light winds in the morning, which was actually a welcome break from riding our smaller kites for a few days straight, so we decided to load up the car and John and I were going to do a downwinder frm the top of the bay. The tide was super low and the launch was a bit tricky, being done on somewhat slippery, barnacle covered rocks. After we set out, the wind was good for a few minutes, but dropped a bit forcing us to head straight downwind. It picked up a bit again, and dropped again. At one point, it was a bit sketchy as I was working my kite all I could and had to head downwind in between a gap in the reef sailing in about a foot of water. It was all good though and I managed to make it all the way back down and landed at the Kitehouse. The wind popped back up again a little later and we all had a killer session on 14's.
[align=center]
[/align]
[align=center]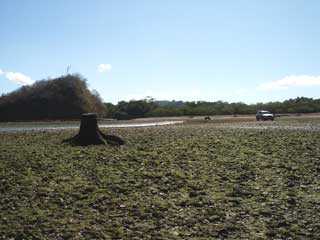 [/align]
Here's a pic of the "Secret Spot", awesome kiting, but a tricky launch (!) and Scott chilling on the patio. He's there for two months, which is probably why he's always smiling!
[align=center]
[/align]
The local rum is great and cheap, but you gotta have something to mix it with. Here we set out to harvest some coconut juice from the backyard trees. It wasn't easy, but in our best caveman imitations, we got what we were after and were rewarded with tasty cocktails. Yum!
[align=center]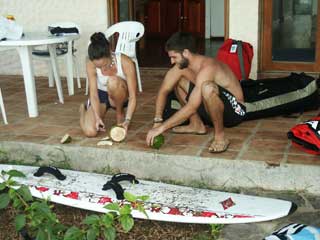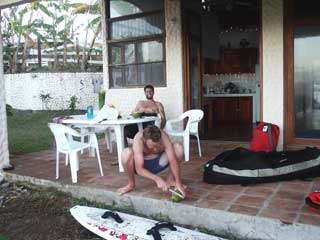 [/align]
Overall, it was an awesome trip. I got in an insane amount of kiting in warm winds and waters, I had a great time and a lot of laughs hanging out with everyone in the Kitehouse and at the restaurant and my only wish is that I would have been able to stay longer. Thanks to Jeff and Emily at the kitehouse for being such great and accomodating hosts and especially to Emily for feeding us great food for breakfast and lunch everyday! If you go, you will definitely be in good hands with them.
Here are some links with more info about the area and a final photo of the view over the bay taken early on the morning of my departure.
http://www.kitewindsurf.com/store/travel.aspx
http://www.thekitehouse.com/costa_rica.htm
http://www.infocostarica.com
http://www.suntoursandfun.com/kitesurfing.htm
[align=center]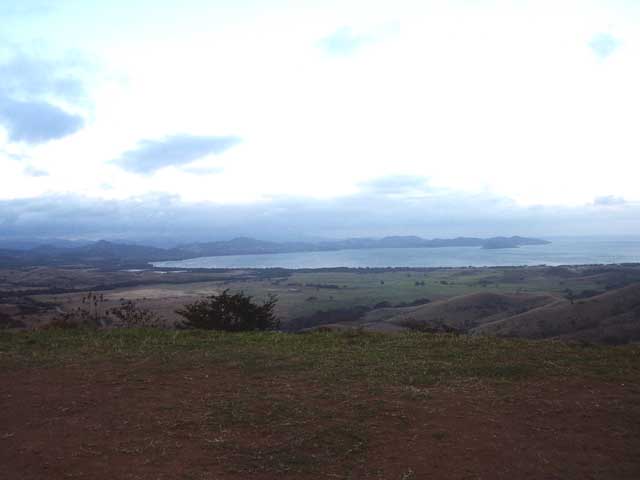 [/align]
Oliver Govers
www.bayareakiteboarding.com
1/16/05