The Complete Kiteboardng Guide
Kitefilm.com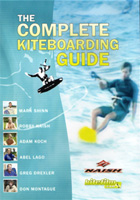 Kitefilm scores a hit with this release!
With a running time of 4 hours total including 2 1/2 hours of instruction, 1 hour of interviews and 1/2 of bonus materials and footage, this video does not skimp on content. Additionally, it offers viewing in five languages - English, French, German, Italian and Spanish and is region-free, making it viewable worldwide. The video we received is in NTSC format, the US standard and we were not sure if a PAL format version, the European standard, is available as well. We assume there is, or that the NTSC format is viewable on PAL players.
Overview -
The video is produced by Kitefilm.com in association with Naish, although you can rest assured that it's not a promotional video (mostly!), but rather draws upon their sponsorship and arsenal of world class riders to provide the footage and instruction. The featured riders are Mark Shinn, Robby Naish, Adam Koch, Abel Lago, Leeshai Miller, Chris Gilbert, Paul Franco, Greg Drexler, Don Montague and UDS designer Chris Barrs. Mark Shinn is your host, explaining all the techniques throughout the video.
The video starts with the Intro, which shows some awesome footage of all the riders and will definitely get you stoked to get started, whatever your level of experience is. Another cool aspect of the video is the music - it's always tasteful and never overbearing. You can download both the action and background music from the kitefilm.com website.
Beginners -
Following the Intro, Mark Shinn walks you through essential fundamentals including everything you need to know about using a trainer kite, how the wind window works, rigging your kite, launching and landing including self-launching, the effects of trimming, or sheeting the kite in and out, bodydragging, and also discusses different types of boards, harnesses and other equipment typically used. Mixed in with all this is an explanation of Naish's UDS system. For anyone new to kiteboarding, you will already have gotten your money's worth out of this video as by now, you will have already covered very important concepts, safety information and fundamentals that are explained in an unhurried thorough way. The quality of the video is good and while everything is being explained, you are always shown clear demonstrations and examples, although some of the computer graphics showing the angle of the kite and wind direction are kind of weird. Another cool feature is the kite-cam, a camera mounted within the canopy of the kite, which is used to help illustrate some concepts.
Intermediate -
Next is the Intermediate section, in which Mark continues to explain and discuss, while he and others demonstrate, waterstarting, relaunching the kite, retrieving your board by bodydragging, kiting upwind, turning (basic transitions), riding amongst other riders, self-rescue techniques, how to deal with riding under-powered and over-powered, and finally.....first tricks, including jumping, landing jumps, and grabs. Keep in mind that the video is no substitute for hands-on instruction, but in combination with instruction, your progress will be quicker for minimal investment as the amount of information contained is great and it's explained very well. For example, Kiteboarding 101 and 201 are both good videos and contain quite a bit of information, but it's not presented in as clear and thorough detail. After watching the KB 101 and 201 videos, I felt that they're good reference and you can learn from them, but it's more of a crash course and rapidly presented.
Advanced -
The third section of the instructional portion of the video is the Advanced section, which is very cool. It starts with rotations, explaining and demonstrating back and front rolls, followed by air transitions, board-offs, kiteloops (!), riding blind, handlepasses, and finishes up with waveriding. This is the money section for more advanced riders and alone is worth the cost of admission.
The interviews with Mark Shinn, Robby Naish, Adam Koch, Abel Lago, Greg Drexler and Don Montague are pretty cool, it's inspiring to listen to these guys talk about their sport, how they got into it, what they like about, and what drives them. I like what Adam Koch says, "All I want to really do is jump bigger and get more hangtime." The Don Montague interview is interesting also, with a lot of discussion about designing kites. He actually goes on and on about it, but it's informative.
Extras -
But wait! It's not over yet. The film finishes up with some great footage of crashes and carnage, which is where you'll hear the only rowdy music. The crash and burn section is followed by the credits, a preview from the film "Outrigger kiting on Maui", and some bonus clips of out-takes, kite-chasing dogs and more kite-cam footage.
So there you have it - 4 hours, 37 chapters, well presented with good music, it covers more than anything else out there from start to finish and is likely the definitive instructional video. It's worthwhile for all levels, but especially the beginner as they will stand to benefit the most from this video.
Every week Kitefilm.com adds a new trick from the film "The complete kiteboarding guide" to be available for download. The tricks will be randomly selected and some are advanced while others are beginners stuff. All their download videos are scaled down for faster downloads, they will appear in full screen on the DVD. You can download the
clips here.
"
The complete kiteboarding guide
" is available directly from
www.kitefilm.com
with free worldwide shipping or from
www.sideoff.com
for $42.95.
Oliver Govers
Bay Area Kiteboarding