Welcome to bayareakiteboarding.com
San Francisco Bay Area kiteboarding safety, access, information, reviews, forums, and classifieds.

3rd Ave, San Mateo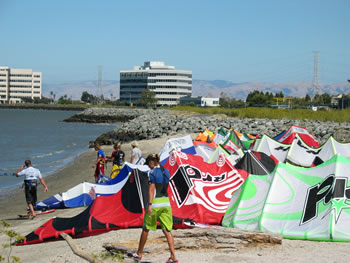 3rd Avenue Guidelines can be
viewed here.
Third Avenue is known for two things, great wind and, well, you will smell the second thing when you get there. Kiting Third Ave. is great, but make sure you can go upwind comfortably before venturing out here as the beach access is small and there is only one place down wind to beach, which is surrounded by rocks. Some people learn to kite at Third, and there is a kiting school, but the winds are typically strong in the afternoon during the season, and there is no wide beach to land on when you get in trouble.
There is ample parking at Third Ave but don't rig in the car park. The windsurfer have a rigging area at the end of the car park which kiters can use, but most just take their stuff to the two beaches. The main beach is down wind of where the windsurfer launch. This is a small beach so don't lay out your lines if you are not going out. Lay your kite on the edge of the beach by the rocks so kiters can get on and off the beach. Getting off the beach can be tricky and dangerous. Because the main beach is protected from the strong winds, the wind on the beach can be erratic; lulls and gusts. Be very careful of the gusts when leaving and entering the beach, they have a tendency to lift you towards the rocks, where many a kiters have had scary experiences. Keep your kite out towards the water, so if you get lofted, you get dragged into the water, and not over the rocks. Typically, most kiters stay down wind of the windsurfers and do their jumps on the inside.
The upwind launch north of the driving range is the the preffered launch. You park at the very northeast end of the lot and walk about 5 minutes to a mudflat with plenty of room to setup and launch. There are usually plenty of riders at this launch and it is much safer than the carpark.