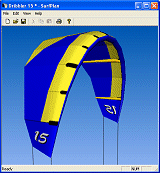 Did your mom ever make clothes from patterns? You can make your own kites from them, too! This is the real deal. You can design your kites, rotate and shade them in real-time 3d views.
http://www.wirelessdatasys.com/dea/kites/surfplan/
Download Surfplan and whip yourself up a nice new custom kite. I made one, but then realized it was about 29m and had about 16 struts.