Leading Edge Productions - Sick Days Review
By Dan Charlesworth
[align=center]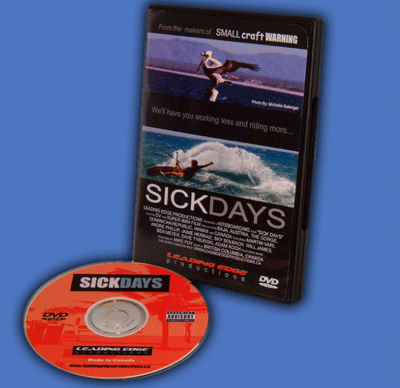 [/align]
Most kitesurfing videos these days focus on the hardcore moves, the loud music and the quest for adventure. ìSick Daysî is no different in their message but the vision is one of pure power for the addiction of the sport!
Mike Foy in his newest release is able to focus on the soul of the sport, sharing the people, the passion and the evolution of kitesurfing. The video shows the limitless nature of the sport as it progresses through the latest moves, the latest riders and the tropical destinations that they call home. The cinematography combines digital footage and 8mm film, which creates a unique balance sparking visions of epic winds, beautiful people and the freedom of expression that we call kitesurfing.
[align=center]
[/align]
The crew at Leading Edge Productions uses a unique style in their quest to capture the epic day. By using a vast network of resources they are able to capture top quality footage from all aspects of the industry, highlighting international riders and distant locations from around the globe. The combination of digital footage, 8mm and point of view cameras provide the viewer with a life like experience. Not many of us have been forty plus feet in the air but through the eyes of Foy and his crew we get to join some of the worldís best as they pull off the latest moves and highest jumps.
The sessions in Baja remind me of the old surf classic ìEndless Summerî when Dave Tyburski hits the surf riding a long board, surf trunks and a kite. It appears as if it was shot by Bruce Brown himself during their epic generation changing surf film of the 1960ís. This is by far my favorite part of the film because moments later Tyburski transitions to modern era and is seen charging the shores of Baja. Not your typical scene, but again it strikes a pattern as to where the spirit of this video lies.
Overall a great video featuring the likes of Tyburski, Vari, Koch, Herraiz and Will James! The music provides a mix of funk, rap and rhythm and sets a solid background for the variety of destinations that ìSick Daysî touches on. I think the cover of the DVD says it all:
ìTomorrow is setting up to be epic, only you have to work ñ again. Canít sleep? Restless? Frustrated about not getting any? Your boss doesnít seem to understand? Donít worry, just call in sick and come riding with us ñ weíve got your fix. Maybe you should take the whole week off, just to make it more believableÖî
My only request! More local Canadian footageÖ
Submitted by Dan Charlesworth
www.skypilotkiteboarding.com
[align=center]

[/align]