Girls Kite Summit in Ishigaki Island, Okinawa, Japan
By Yoko Nishikubo
[align=center]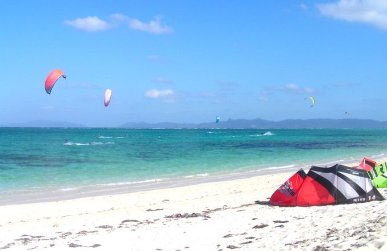 [/align]
Many readers probably donít know where the Ishigaki Island is, itís located in Southwest of Okinawa Island, (45 minutes airplane ride from Okinawa), and surrounded by 31 islands, which 30 of them are uninhibited. The average temperature was about 24-27? (76-81F) during my stay. We had two days of typhoon, unusual for the season. We couldnít kite for 2 days out of 5 days. Thanks to a great coordination by an International Cabrinha rider, Tomoko Okazaki & Motoyo Yamada (Pro-Kite Repair in Chiba, who I actually met in Maui Sept. 03 and took lessons from), and Tokuoka-san & Harumi-san (who took video the whole time!), Mr. Tsumura (the owner of Island Club where we stayed during camp) and his staff, this kite camp left me an unforgettable experience.
12/1/04óDay 1:
The condition was fair. Woke up around 7 a.m. After breakfast, Tomoko-san and Motoyo-san and Akiko-chan and myself headed to Kabira Beach around 9:30 a.m. Soon after I got there, Tomoko-san mentioned that my foot-strap was inside out. I even forgot to grab my tools to adjust them. Oh well. They told me to either work on my toe-side or just ride with it. No way that I could ride toe-ride!! I had to ride just as it was, and it was fine except that I didnít kite so long that I completely forgot how I used to kite. I used my Boxer 9m in the morning, but I was so panicked that I wasnít even able to see the ocean out there. Well I knew thatís going to happen because wind stopped at Alameda around August, and since then, I didnít kite. I wish I could have gone further to kite. After lunch, I took my Boxer 12m. Thatís the kite I mostly ride with and I was much more comfortable kiting with 12m even though it was a bit over. Learning points for the day: Kite positioning, posture, turn, etc. Around 3 p.m., the rest of campers arrived. We kited till around 6 p.m. We went back to the condo and cooked Sushi and watched the video that was taken for the day. I donít think anybody ever done that to correct my posture in the Bay Area. It was such a great way to improve riding.
[align=center]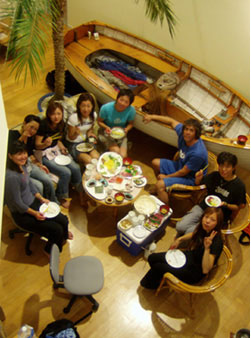 [/align]
12/2/04óDay 2:
Another gusty day. We got there around 10 a.m. I still have problem with riding with my new board and my 9m kite. I know I was over-powered because the rest of girls were riding with 7mÖ Even though I am bigger than them, and I should be in a tag of war competition (so I was told because I am big among the girls.óBelieve me Japanese girls are so skinny!!!), I think 9m was big for me. It was also gusty condition, which I probably donít even kite if I were by myself. Focused on my posture, kit and board maneuver, turn, etc., at the end of the day, I had a good session. I just need a lot of practice day like this. Rest of the girls were crazy. They kite 3-4 hours non-stop, have a quick lunch less than 30 min. then go back kiting again for a few hours. I guess the rest of the girls except me already knew what was comingÖ yes, typhoonÖ
Since most of us were riding almost all day long, we went out for dinner instead of cooking at the condo. We were so exhausted. But again, after dinner when we had a good laugh over beer, all of us were wishing for good winds.
[align=center]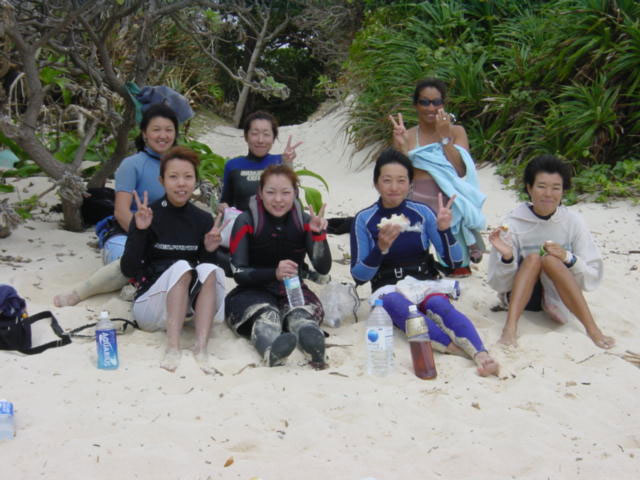 [/align]
12/3/04ó Day 3: Typhoon, went to Akaishi Beach. Too windyÖ
[align=center]
[/align]
12/4/04ó Day 4: Another day of typhoon.
Doing bar-image training, yoga, shopping, etc.
[align=center]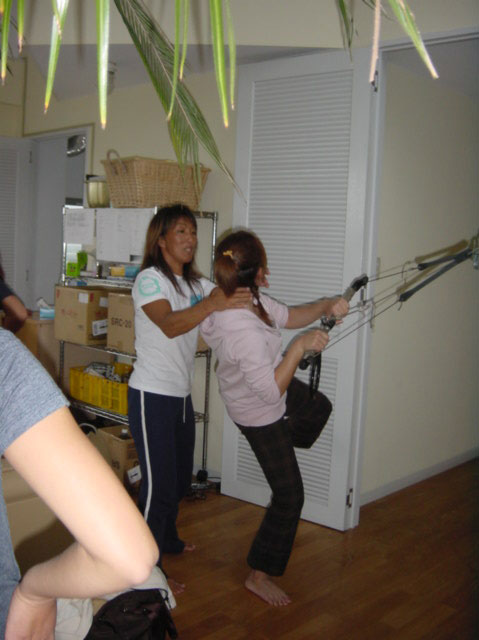 [/align]
12/5/04ó Day 5:
After two days of typhoon, the wind was still gusty especially in the early morning. A couple of girls went out with their 5.5 m and their 128 cm board. They were kicked and were way over-powered. We were talking about them it was like a rough rodeo ride if we could describe it. I waited till mid-day. I borrowed Tomoko-sanís 2005 Cabrinha Nitro, 6.5m and yes thank you Motoyo-san I loved Jimmyís 137cm board. To be honest, Iíve never really borrowed anyoneís kites or boards. So I was so scared to death if I would destroy their gears! Phew, nothing happened. After 2-3 hours of intensive instructions by Motoyo-san, (letís say it was really trying to correct my posture) I finally got it. It was incredible!! I donít know how long I was out but I really did not go back and I didnít care! I just wanted to kite forever at that point. What an incredible experience. Iím not yet to jump or do any crazy tricks but I think I finally got to feel of ìkitingî really. I was so high. Itís similar to the feeling came back from skydiving. I got injured my neck during my AFF class (I had to quit at Level 7, right before graduationÖ) and I never really thought Iíd feel the same way. But I did! This is it. I am so hooked. I cannot wait for the next seasonÖ
Overall, Iíve been so lucky to have met all girls-kiters in Ishigaki who are from other areas in Japan. Iíve never felt so close to people that I never even knew before. We got along so well. I guess itís the magic of kiteboarding. Even though there are a few of us kite at Alameda, it wasnít same. It was an intensive camp with dedicated or I should say, addicted kiters. We stayed in a condo, sharing a room, cook together, drink, and good laugh! I donít think I ever laughed so hard in my life!! We had so much fun every night, talking about kiting drinking beer and wishing for good winds the next day. The most impressive thing that I ever discover from them is that one of the girls had to put the pain killer pads every night so that she can kite so hard each day whenever possible. I really admire her spirit. In fact, among 6 of us, at least 3 of them are going back to Okinawa to compete at a competition next month. I heard Okinawa will have good winds till around March. By then the wind will be back to the Bay Area, I hope. I cannot wait for the next season.
[align=center]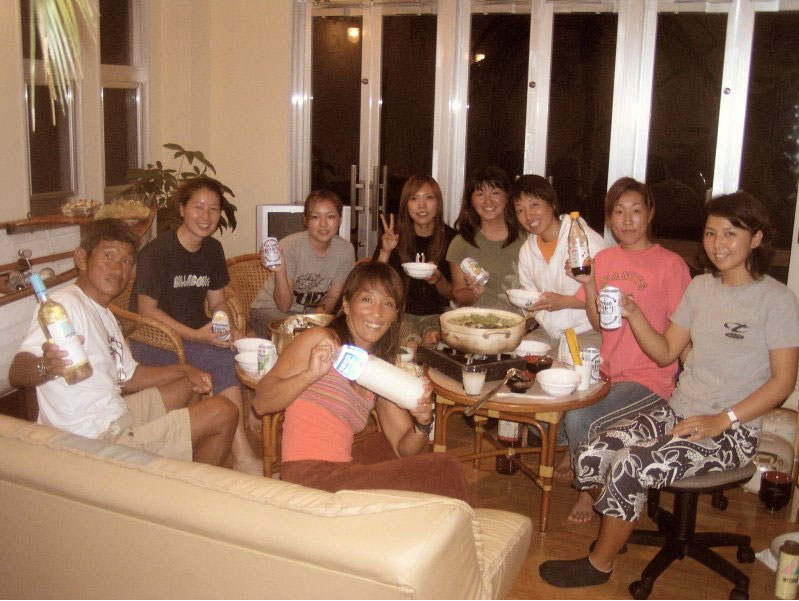 [/align]
In conclusion, even though I donít have too much to show, Iíve been longing to show how I have progressed on my kiting skills in front of Deborah, who severely injured on July 5, 2003. Ever since, there are many times that I wanted to quit this sport, but with that painful accident, with lots of support from my friends, I pledge myself into this sport. My only goal was to show her how incredible this sport can be. Whenever I kite, I think of Deborah. To me she is always kiting with me. An unfortunate accident prevented her from kiting any longer, but this year she said she is eager to come to watch me kite. Till then, I am hoping to enjoy kiting and be able to spread the word of safety at the same time.
[align=center]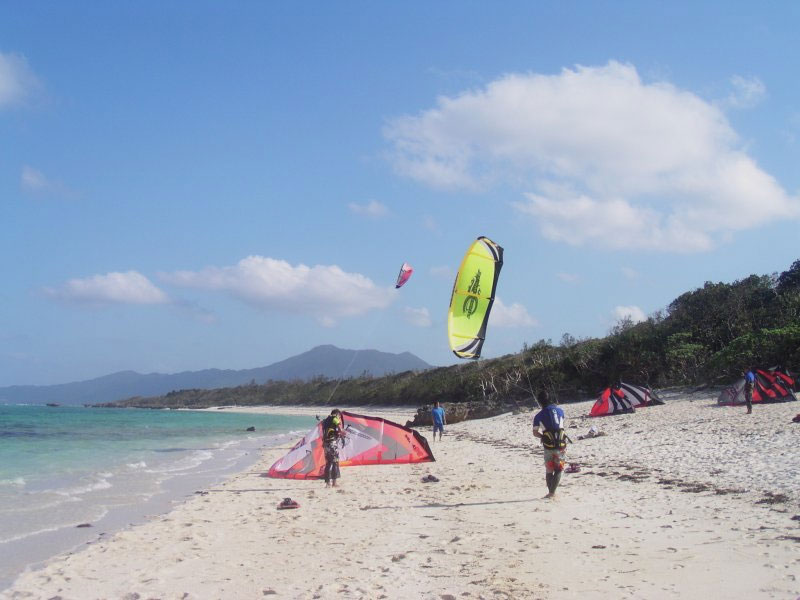 [/align]