Welcome to bayareakiteboarding.com
San Francisco Bay Area kiteboarding safety, access, information, reviews, forums, and classifieds.

Sherman Island/Rio Vista
Sherman Island Guidelines can be
viewed here.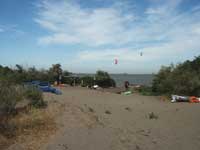 Sherman Island (AKA: The Delta, Sherman Island, Rio) Kiting
This is a long established windsurfing location that has become a paradise for kiters. † Reason for this is warm weather, steady and predictable wind and a great "Sherman" vibe. † Multiple schools offer lessons on-site, but they are quite busy, so call ahead. This is one of the few spots in the bay where you can bring the entire family. It's warm enough to hang, and lots of kids play in the area.
When does it blow?
†
The island is located on the Sacramento River close to the town of Rio Vista. † Topographically, the island sits in a perfect spot for the wind to funnel in from the ocean to the valley. † What makes it blow is the pressure difference between san Francisco and Sacramento. † Any time the pressure difference is around 2.0mb, you will have 20+ conditions in the delta. † When they bay is fogged in, and the valley is hot, you will have wind in the delta. Because this site works best on thermals, most of the wind is pretty steady. You will get some clearing days where the wind is gusty.
The typical season gets going in April timeframe and lasts through October. Some of the best wind is latter in the year - Sept/Oct - as you get nice and steady 16mph of wind. March/April have been known to deliver EPIC conditions for 72 hours at a time. The typical wind cycle is: blows hard in the morning, mellows out mid day, and gets going again in the afternoon. On some days, it will blow all day long.
How hard does it blow?
Depends. † Most common kite size is 12m. † I've used everything from a 6m to 20m kites. † It all depends on weather, tides, your desire to be riding. † There are two sensors here from Iwindsurf: one is on a channel marker and another is on a house. † The Channel Marker 14 (Sherman14) is a close representation of what you will feel once away from shore. † The Sherman reading is what you will feel when you are launching/landing.
Water conditions
This is a river, which is influenced by tides (ebb and flood). † The water is fresh and muddy. † On an ebb, you can have nice steep chop, and on big tides, they can get to about waist high. † If you get yarded hard on an ebb, getting back to your board can be challenging, as the ebb will be moving your board away from you. † On a flood, the water is buttery smooth.
There are islands upwind of the launch which block the chop, but not the wind. † Makes for some fun tulle jumping sessions.
The water temperature ranges from chilly to very warm. † In the spring/fall, most people go w/full 3/2 or 4/3 depending on time of day. †† A shortie comes in very handy in the middle of the summer.
Where do I launch?
Do not launch at the Sign or Power lines. Keep driving down the road to the park.Sherman Island Park is the best place to launch. After you get off the 160 Antioch bridge, follow 160 until you see a left turn (with barn on the side). Follow Sherman Island road until it ends in a county park. You have to pay ($4/day), or you can buy an annual pass. Once you are in the park you will first see the "playpen". DO NOT LAUNCH HERE. This is a popular place for windsurf lessons with many kids. Keep driving. You will come to another parking area with many motor homes. Park here and walk down the path to a beach. You will see many kiters there; ask for help if you cant find it. If you come to a parking lot where there are jet skiers, you have gone a bit too far.
The access has a good sense of community - people know each other well - and the traffic is slow. Don't drive fast: There are lot's of kids playing.
At low tide, there is a good size beach for laying out lines, etc. On high tide, you have to launch behind the bushes, and walk to the water. Some common sense:
- Kiters coming in from the water have right of way over those getting out
-Double check your stuff before you launch: you have zero room for error.
-Get in water and get away from beach.
- No riding/tricks/jumping close to shore (200 yards). Your bros can see your new moves when you are away from shore. Multiple accidents have occurred when people mess up close to shore.
-Person riding w/right hand forward (coming into shore) has right of way.
-Don't ride too close to anyone, you don't know when they will jump/turn, etc.
-Don't jump/turn without first looking to see who is downwind of you.
-When you come in, roll up your lines, and stack kites on the beach (little real estate)
-When getting ready to go out, pump up your kite first, get your stuff on, they lay out lines. Not much room for lines on the beach.
Hazards??
Hell yes. This is a river w/an international shipping channel, rip rap on the sides, logs floating and blackberry bushes on the beach. You need to be competent kiter - know how to go upwind RIGHT after you launch. A mistake will cause you bodily injury, piss off windsurfers and cause bad karma.
If you are not at least an intermediate (know how to go upwind well, good kite control, know how to do self rescue)- please get a boat ride up to one of the islands up wind. Multiple schools offer this service on site.
Please remember that this area is very popular with windsurfers. They have been there much longer then kiters. Give them room and respect. If you go down and are drifting to windsurfers, don't assume that they know about kite lines, etc. Roll up your stuff and swim out of the way. If you are overpowered and are galloping down wind, remember that at the end of this are: roads, rocks, blackberry bushes, people, cars, cows, electrical towers. Know how/when to let go of your kite.
The last place to get out if you can't make it upwind is Little Baja. This is past the beach, AKA playpen, and is right on the rocks of the levy. There are sandbags and carpets. If your kite is still in the air, get out, and drop kite behind the levee. If you are swimming your stuff in, give yourself room for error. Remember, the tide keeps on pulling.....
Finally, this area gets crowded on weekends. The warm weather, steady wind draw a crowd from the bay, Sacramento and Reno. Be respectful of the regulars. They will lend you a hand and help. Bring cold beer for the mellow hang after the session. Don't be in a rush to take off.....
Camping
At the park, you can car camp overnight. Many people spend the night to get the sweet dawn patrol sessions. The town of Rio Vista has cheap hotels. Brannon Island State park is 15 minutes down the road on 160.
Shops
Two main shops are local. Delta Windsurfing and Windcraft. Delta is the large barn that you pass on the way to the park. Windcraft is close to Brannan Island State Park.
Contributed by Zeev Gur, 2004.