The Kiteboarder Magazine adds Two Key Players to the Team

The Kiteboarder is pleased to announce two new members to our staff--Marina Chang and Gabe Brown. This new organizational structure solidifies the fact that The Kiteboarder's staff is the most knowledgeable in the industry. The Kiteboarder is 100% made in the USA by kiteboarders. No other kiteboarding magazine can honestly say that.
Marina Chang
is the NEW publisher of The Kiteboarder and is in charge of managing operations, distribution, finance, sales, marketing, promotions, and strategic relationships. She will also play a key role in shaping editorial content and the overall vision of The Kiteboarder.
A Journalism graduate from Cal Poly, San Luis Obispo, CA, Marina has 12 years experience in advertising, public relations and event marketing. Before joining The Kiteboarder, Marina was a partner in Kitexcite kite school located in Cabarete, Dominican Republic. Her passion for the sport, industry knowledge, business experience and educational background will only enhance the overall quality of The Kiteboarder.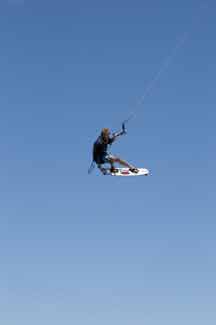 Our other new addition,
Gabe Brown
was previously the West Coast Editor for Kiteboarding Magazine published out of Orlando, Florida. Gabe will be handling marketing and business development along with assisting the editorial staff. Gabe comes to The Kiteboarder magazine to join what he believes is a knowledgeable team and to take advantage of an opportunity to be a part of something genuine, that he believes in.
Gabe is the Producer for KillaHz, an action sports video production company who recently released one of the hottest new kiteboarding videos; WindReels Volume 1. Gabe majored in Photography at the Academy of Art, San Francisco and has been shooting sports for over ten years. Gabe's photography, editorial and web skills on top of his industry knowledge are going to be a huge asset to The Kiteboarder magazine.
[right]http://www.bayareakiteboarding.com/pics/kbmag_cover.jpg[/right]
Issue #2 Update
Issue number two is on the news stands now. The Kiteboarder is almost completely sold out. The kiteboarding community has been extremely stoked on the superior quality of content, photos and editorial direction. Check it out for yourself by emailing us your name and address for a free trial issue. Issue #2 of The Kiteboarder will be on news stand the second week of January 2005. Be sure to check out our new website
www.kbmag.com
.