It was great to see some folks from the West Coast at this fun event. Here is the first of a few posts.
The Pryde Group has an annual dealers meeting to rollout new products from
Cabrinha
,
Neil Pryde
,
JP-Australia
and other brands for the year.
This year they chose a special venue, Bimini in the Bahamas. Major watersports dealers from South, Central and North America from nine
countries totaling almost 100 people converged on the island. The
Adventure Sports Incorporated DBA Pryde Group Americas (ASI)
troops
based in Miami had their work cut out for them in organizing such an effort. The 2011 new demo gear brought to the event was impressive
including over
50 kites, 45 kiteboards, 25 windsurfing boards & rigs and 22 standup boards.
Add in a thousand or so accessories
and you start to get an idea. I had been speaking to Kent Marinkovic, President of Pryde Group America about it for months with growing
anticipation. ASI fielded 18 staff to make the event happen. It was an amazing informative and fun experience with hands on exposure
to a lot of excellent gear in great conditions. This is the first of a few articles on this event.
Here's our home island for the event, Bimini. Look at all that blue water!
Boarding at Ft. Lauderdale. ASI flew almost 100 people over in these nine passenger turboprop Chieftain aircraft in a couple of days.
There was about 24 flights, it was quite a logistical feat! The flights were handled capably by
Pioneer Air Service
out of FLL.
Loaded up and flying about 50 nm across the Straits of Florida to South Bimini in only 25 minutes.
Heading over to Bimini, less than 50 nm from Ft. Lauderdale. So close but a world away.
Our home for the next several days, the
Bimini Sands Resort and Marina
We're on the ground and Paula and Becky with ASI are at the airport meeting folks and seeing them on the way to the hotel. They left
very little to chance in managing transport of folks or much else in the great conference.
Mike and Maui welcome folks to the Bimini Sands
A look at the Bimini Sands Resort, lots of boat slips and large condo units for rental.
Click photo for full sized image
Tim hangs out with some of the 18 ASI staff that made this event possible. There's Damo, Steve and Bryan. Bryan tackled a lions share
of the organizing important aspects of the event.
Wind is up, guys are riding so lets hit it.
The beach and launch area at the Bimini Sands Beach Club
Click photo for full sized image
Gear HQ for
Bimini Kiteboarding
right at the launch
The Bimini Sands Beach Club is a remarkable place. There is a massive sand beach by Bahamian standards, about 500 ft. long by around
175 ft. at the widest. Beaches are usually far narrower in the islands. It is bounded by shallow water to the east. It works for around
east to south to west to north winds covering much of the year. Other launches including running down the flats of Bimini sounds or off the
north end of North Bimini work for northeasterly winds.
That object in the distance is the wreck of the concrete ship, the "Sapona" about three miles off on the flats. The ship was a former
rumrunner/nightclub/brothel that was blown ashore in a hurricane in 1925. The Army Air Corp used it for bombing and strafing practice
in WWII. It is a fun wreck to dive. Kent also took us over there to do some spelunking and jumping off the wreck. It was an interesting
time, video in preparation, up soon!
The Bimini Kiteboarding launch is EXCELLENT! Sheltered shallow water over the flats with clear blue waters just next door in the Florida Straits.
With westerly winds some nice waves set up too.
I headed over to Turtle Rocks to the south. The wreck of the Sapona didn't look that far away and with Turtle Rocks as a lee shore to
lay up on just in case I tacked out for a look.
A look abeam at the ship. I first saw her when I was 16 years old, there is less of the ship out there today to be sure.
Back at the beach drinks with Pete Cabrinha, Kent and a bunch of other watermen at the Mackey Bar.
Over to the beach along Alice Town on North Bimini for some conch salad, tunes and sunset.
Look what laid up a short way to the south along the iron shore.
The sun is easing down.
The wreck of the Gallant Lady seems to be rapidly dissolving in place in less than a decade.
We had a cloud pass over that dumped some rain for a few minutes. Some got a bit wet but enthusiasm was not damped in the least!
Mr. Charles Robins of
Bahamas Tourism
stops by the event to see that things are going well. The food and
service on this trip were quite good and a credit to the businesses and hard working Bahamians that make these enterprises a reality. I
asked several others about this and they were in agreement with this view.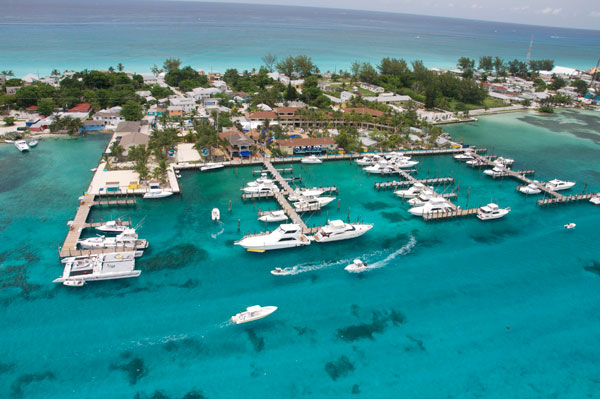 We then walked down Queens Highway to the newly reopened Big Game Club for dinner. The Big Game is now a Guy Harvey Outpost Resort & Marina.
From:
http://www.thebahamasweekly.com/publish/sports/Bahamas_Wahoo_Challenge_Coming_to_the_Big_Game_Club12285.shtml
The pool deck was all decorated for us at the Big Game.
Todd Greaux, brand manager for Cabrinha and Kent Marinkovic make opening comments to the dealers at the Big Game Club.
Kent Marinkovic's mother, Bryan and Paula dig in
Paula and Todd undertake an SUP water fight in the pool of the Big Game Club
Our host, Neil Pryde over from operations in Hong Kong. A quiet unassuming man, he is quite a powerhouse with his combined interests
among Cabrinha, Neil Pryde and JP Australia targeted to gross $100 Million USD worldwide in 2010! This in a time of recession, I think
he has something to teach us. Speaking of which ...
Mr. Pryde has been at it for 40 years and even put together a book recently about the ride titled
"Will to Win".
I interviewed Mr. Pryde
about his book on video and plan to put that online with a review of the book here soon.
Near the end of the evening, for some of us, a sportsfisherman tied off some cleaned wahoo to bring in some sharks. Quite a crowd
gathered to watch a few individuals come in to much the fish. You can get some good sized bulls patrolling the docks and back in the
day the harbor master, a large hammerhead.
So, that is just a quick look at the first day of over four! There is a ton of excellent still shots and video from this singular event from
dozens of people on the Internet. Lots more action and images to come, stay tuned ...
FKA, Inc.
transcribed by:
Rick Iossi
.