I've been down in Santa Barbara for a little over a week doing a job for a contractor I've known from berkeley for many years who's building a house down here. He asked me to come down and do the sidewall shingling and it sounded like a fun good, so here I am. I've probably another week or so to go. The weather's great and the local architecture and abundance of palms with the backdrop of the mountains on one side and the ocean on the other is pretty cool.
I've been able to kite three times so far while down here. My first kiting was on my second or third day in town and I skipped out on work after lunch as strong N/NW winds were coming up and the last time I had kited was in Baja, so I had to hit it. I went to East Beach, just South a few blocks from the Harbor and Wharf and rigged up a Type 7 12. While rigging, the local photographer for the Santa Barbara News-Press introduced himself and got my info to run in the paper with a couple shots as he was doing a half-page bit on the strong winds that day which was pretty cool and I was surprised to find myself on page 4 the next morning.
[hr]
High winds a challenge for both work and play
Chuck Schultz
RAFAEL MALDONADO / NEWS-PRESS STEVE MALONE / NEWS-PRESS
February 16, 2006 11:18 AM
Unusually cold winds, gusting between 25 and
35 mph much of Wednesday, were annoying to many on the South Coast but caused little or no damage, authorities said.
One unoccupied boat blew seaward from its anchorage east of Stearns Wharf early in the morning, but it was quickly snagged by the Santa Barbara Harbor Patrol and secured without damage.
Along the waterfront, "everybody pretty much stays off the water in these conditions," said Harbor Patrol Officer Troy Kuhlman.
Except, it seems, for some brazen windsurfers and kiteboarders, who capitalized on the blustery conditions.
A preponderance of whitecaps was no deterrent to kiteboarder Oliver Govers, top right, as he zipped through the waters off East Beach. He described it as a great day for riding the wind, despite dangling from his kite at one point after losing his board during a sharp turn.
A work crew outside the Four Seasons Biltmore Resort, above, might not agree with his rosy assessment. The crew struggled to raise a stairway security wall knocked over by the gusty winds.
Amid the choppy surf offshore from that Montecito hotel, Kipp Harmer, right, harnesses the wind's power as he glides through the waves.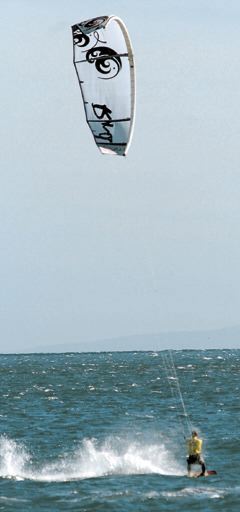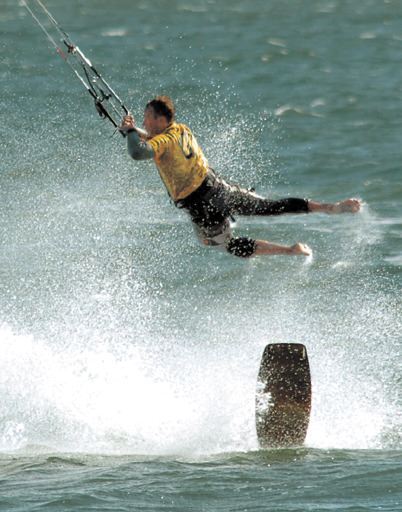 [hr]
The next session was at Leadbetter Beach, just North of the Harbor and Yacht Club on Sunday and was fairly light, with about a half dozen guys flying 16s, 17s, and 18s. My biggest kite was a 14 and everyone was having a tough time making it work and coming in downwind, walking back up the beach and trying again. I did the same and kept trying about 6 times or so and ended up getting in about an hour after most people gave up. I ran into Jason, a kiter from Alameda and Berkeley who was down for the 3 day weekend. Small world!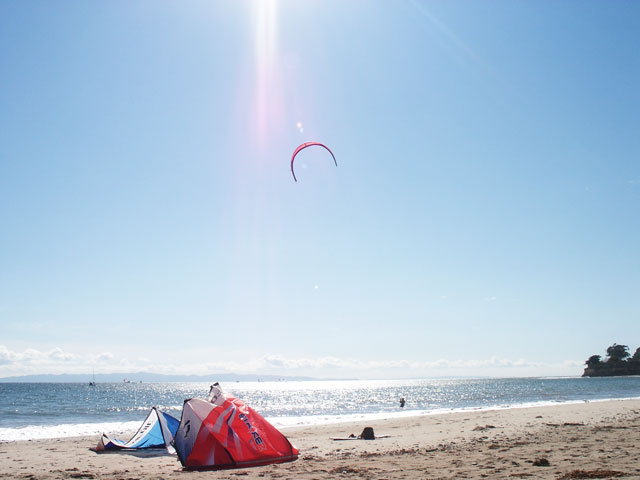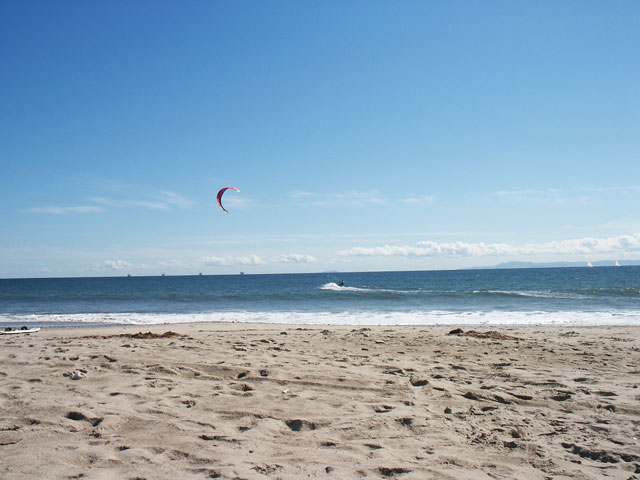 That Monday I had to run back up to the Bay to attend to some tax prep issues and headed back down again the next day where I dropped by Pismo Beach to check out the wind. It was pretty light and a few kiters were making a go of it, so I pumped up the 14 and made a go of it. I saw Kinsley Wong from XtremeBigAir on the beach, but didn't get a chance to talk. I got in maybe 45 minutes of very light kiting with some walks back up the beach, but again, the scenery was awesome it was late in the day and the sunset was spectacular. I'm probably going to hit the PB Expo this year as this place looks like a blast for kiting.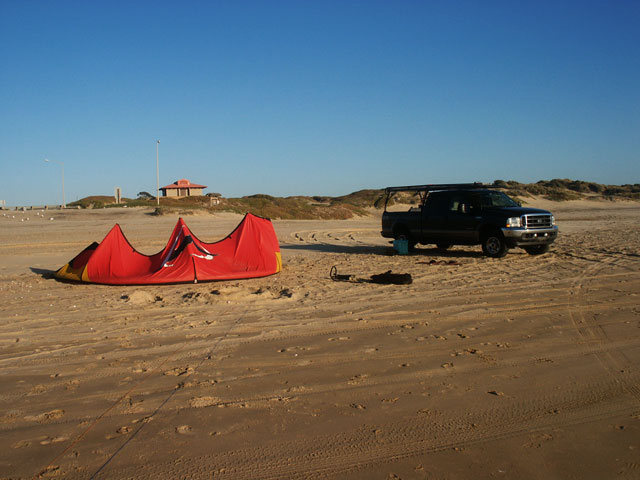 Finally, here's some in-progress shots of the house I'm working with the pattern shown which slows things down a bit, but the owner's thrilled with it so far and when it's all done it will be a great looking Craftsman house and overall it's been a fun project with a great crew of guys to work with.