Winter Kiting at Treasure Cay, Abaco, Bahamas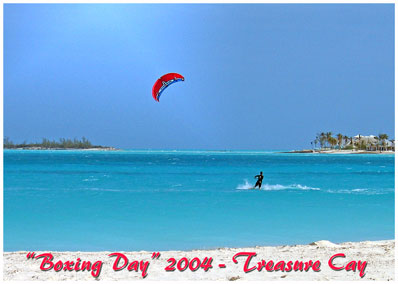 http://www.bahamabeachclub.com
http://www.treasurecay.com
http://www.barometerbob.com
†
Treasure Cay beach was awarded one of the ten best beaches in the world a few years back by National Geographic. It has the best public golf coarse in the Bahamas said Golf Digest. The community of Treasure Cay is very small and friendly. Most people travel around in golf carts and every body waves or stops to talk to each other. Life is slow and very low key. The population is highly affluent but you would never know it by looking at them.† Treasure is very welcoming and an insane location to kite board!
Treasure Cay is a sandy point facing NNE off the island of Great Abaco in the Bahamas. The leeward beach is NE facing and is†about 4 miles of wide white sand beach in a crescent shape. Starting at Windward Point a large sand bar forms out to Sunrise and Sand Bank Cays. A few miles farther out is the island of Whale Cay then the Atlantic Ocean.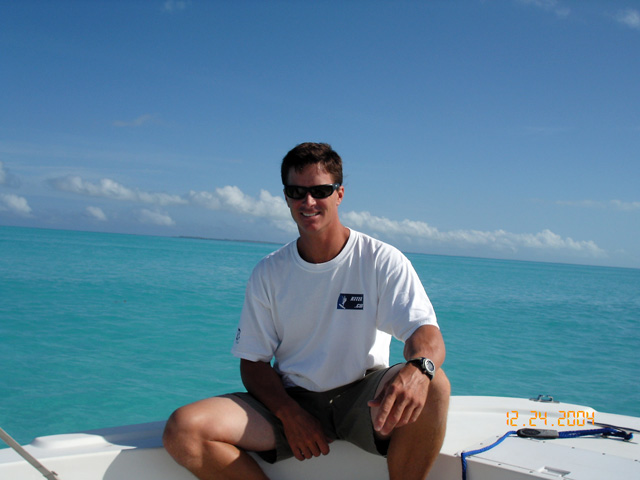 Most kite-able days the sand bar off Windward point is the spot to ride. Windward is a perfect place to begin a down wind session heading NW down the Treasure Cay beach to Carlton Point. Between the rocky out cropping of Carlton and Black Points is a small beach with a flat reef that forms long braking and shapely waves.
South winds are kited from Cannon Point all the way to Windward Point. This area is a series of small beaches and sea walls protected by numerous rock groins. The Windward Beach is mostly short sections of narrow sand. Just off shore the water drops off quickly and lots of tight white capping chop forms. SW winds are generally very gusty and not very fun to ride.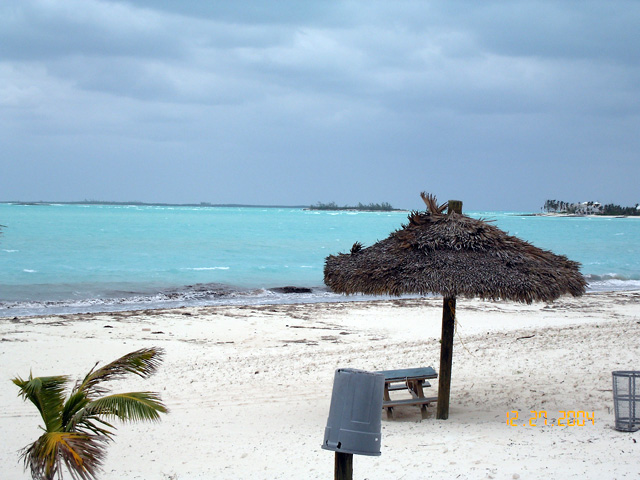 The bulbous shape of Treasure Cay makes kiting possible in 280 degrees of wind direction. All the way around from NW to SW you can find kite-able launch sites. Most locations have down wind landing sites in the event of problems. The water is very clear to blue in color. Because of the water clarity staying clear of water hazards is very easy. The rock reef sections make dark patches and are generally deep enough to kite right over. Coral reef is very rare in the immediate area. Carlton Point is the only place I've seen coral heads near the surface and are identifiable by boiling water.
Windward Point sand bar creates butter smooth water in low tides. The middle has a large shallow pond and remains glassy in very strong wind. Just off the sides of the sand bar is hundreds of little waves then deep water. The water surrounding Treasure Cay is no deeper then 15 feet and numerous shallow sand bars form. The sandbars mid way down Leeward Beach can form mild waves with good form. On medium to low tides these sand bars have rolling waves have long periods between them and lots of smooth water can be found for fast kiting and wave riding.
In winter, the winds are the result of cold fronts headed south. The local people stay clear of the water unless it is very calm. Big winds from cold fronts are called Rage's.† A rage sea creates high tight rolling chop in the Sea of Abaco making boating pretty much off limits. If you get into trouble during a rage it is very unlikely you will get any assistance.
†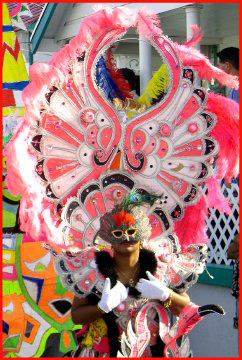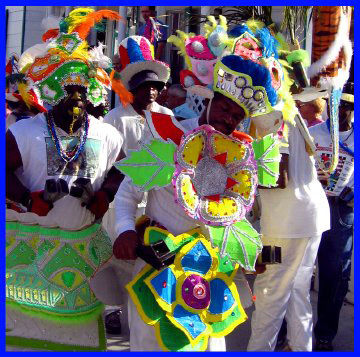 Cold fronts generally pass through in a matter of a few days. When fronts approach the wind starts to build rapidly. During a strong front the wind will be gusty and very strong. Six and eight meter kites are the call during strong rages.† As the front passes the wind will go around the clock (direction wise) and blow around the clock (time wise). In the beginning north winds kick up and as the front leaves the wind will be south to westerly.
Finding a kiting partner is very unlikely. A few local people windsurf but most folk's just bundle up indoors or go to a beach bar. The Coco Beach Bar and Banyan Beach Bar provide food and drinks during the day and are well attended unless the weather is extremely foul. The local winter crowd is generally 50 plus in age. Young people come to Treasure Cay with their families generally.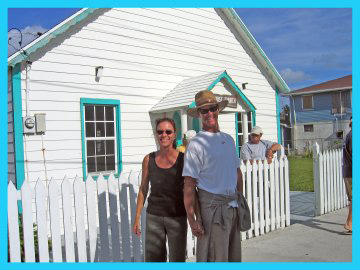 The local nightlife is very slim. Only a few bars and restaurants are open at night. The food is very basic and the best restaurant is three stars tops with extremely slow service. Live entertainment is provided several nights a week at the Tipsy Seagull nightclub. Basically the club scene is several people sitting around the bar drinking Rum or Goombay Smashes and talking about fishing. During the holidays a lot of activity†occurs at the bar. The parties last until the wee hours of the morning when many drunk people take to the road in golf carts. Drunk driving is allowed in the Bahamas and the drinking age is eighteen. Remarkably, local people mostly drive with their lights off at night, thankfully the speed limit is only 15 mph.
If you get into trouble in the Bahamas heavy penalties are to be paid. Car crashes will land you in jail and drugs and guns are strictly prohibited. Long jail terms are the penalty for possession of drugs including marijuana. The Bahamas is a land of many laws but very little enforcement. Finding a police officer is almost impossible!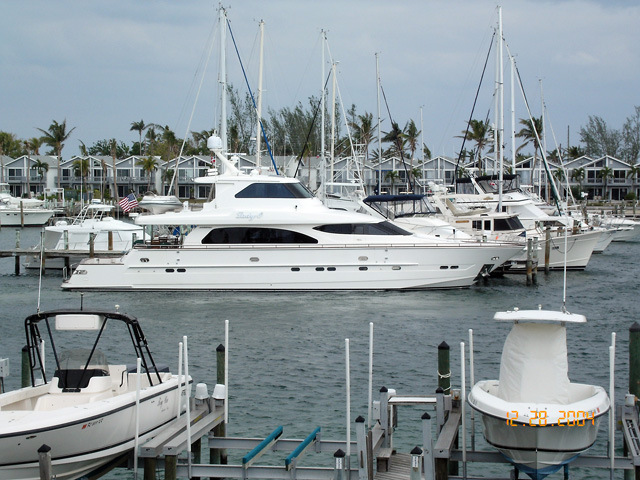 Crime is very limited in the Abacos. Most crime is the result of petty theft from Haitian workers. Many people claim to leave their doors unlocked and never loose anything. I choose to lock my stuff up because I had a kite picked up by a local worker, better safe then sorry.
Food and supplies are limited. Nice fresh vegetables and milk are hard to come by because supplies come in once a week and sell out quickly. Two markets are open in the Treasure Cay shopping center. A bank, bakery, post office, cart and bike rental, bottle shop and small hardware store make up the shopping center.
The Treasure Cay hotel is located on the marina directly in front of the shopping center and across from Leeward Beach. Rooms start at $150 per night for a one bed facing the parking lot to $285 for a suite on the water.† The hotel is not very nice so most people choose to stay in one of the many houses for rent. Houses rent from about $1400 per week to many thousands. Numerous multi million dollar homes line the shores of Treasure Cay and some are available for rental.††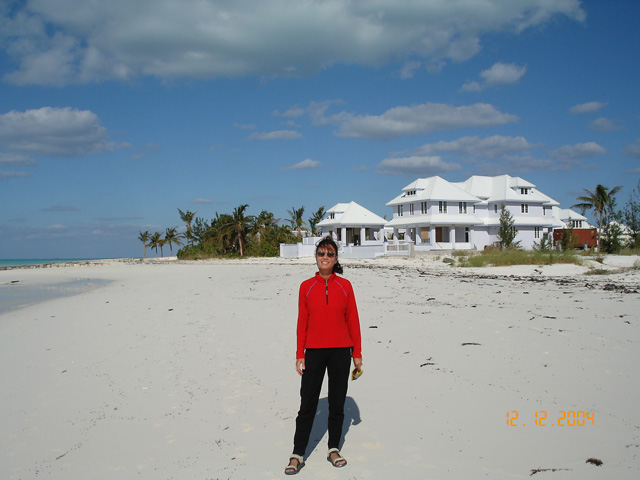 Contributed by L.M.G. (Greg Boyington) January 2005