Kiteboarding: Passion or Pass-Time?
By Allan Wiinamaki, Nokomis, FL
I couldn't take my eyes off the TV as I sat eating my usual Ruben sandwich for lunch at the busy cafÈ just around the corner from my office. The screen was flashing vibrant colors, a shimmering blue ocean and a bright yellow arc of kite set in a clear blue sky. Following the kite was what looked like a wake boarder ripping through the surf. Without warning he launched 30 feet into the air twisting and spinning. Nothing could wrench my attention from the screen; not even my favorite combination of salty meat, sour topping and golden brown butter on dark rye bread. I listened intently over the din of the lunch crowd and discovered I was watching an exhibition of the fledgling sport of kiteboarding. That was it! I knew I just had to get into kiteboarding.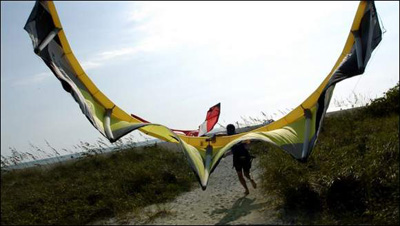 I have always enjoyed a new challenge. I looked at this opportunity as an adventure - a discovery of more than just a new sport. It would be a discovery of how far I could push the limits of my strength and skills, a discovery of the simple beauty of harnessing the elements of nature - wind and water. Finally, it would be a discovery of the brotherhood of a small group of guys who share the passion of a little known sport. A tight knit group of guys who watch out for one another through the hidden and unexpected dangers of an extreme sport.
My adventure began with a search for an expert who could quench my thirst for answers to the many questions buzzing through my head. I figured a town of any size, like my quiet beach community, would surely have a local shop that could hook me up. After a little investigating, I found myself wading through a sea of sails, kites and boards of all kinds in a little shop just off the beach. When I finally came up for air, I was overwhelmed with the array of gear available.
But, my efforts were rewarded. It turned out the owner of the shop, Laurel, is a local kiteboard instructor with a great reputation for safety and experience. What a job! She spends most of her time on the water doing what she loves and it shows. She is a talented, knowledgeable sailor. Some guys would not admit it, but I have to give her credit. She is one of the women that has excelled in the sport and promoted its advancement.
The lessons I took were very informative and provided the experience I needed to navigate the trials of learning my newly chosen craft. I went through the newbie stage with the typical highs and lows that everyone goes through. I had to earn my degree through the school of hard knocks just like everyone else.
My trials included getting dragged to the edge of mangroves and barely avoiding becoming a shishkabobed kiteboarder; inadvertently flying my kite into another kiteboarder who was perturbed but gracious enough about my blunder; drifting, floating and dragging downwind only to march the walk of shame often miles back up the beach; and losing my board while attempting to acquire that initially elusive skill of dragging upwind to retrieve a recently untethered board.
I think the one that topped them all was trashing another guy's brand new board. It was my first day in more than 15 knots of wind. I was still on a directional board and struggling to stay upwind. I learned a hard lesson about taking advice from other kiteboarders. Some guys are fearless and will do just about anything. You might say some are a little lacking in sound judgment or common sense. Sometimes they just don't consider the skill or abilities of the person they are giving advice to. Most guys are fairly cautious, but this day, I got the line, "Hey, the best way to learn is to just get out there and GO for it!" An inexperienced rider in fairly strong winds, in an unfamiliar pass with a strong outgoing tide was a recipe for disaster. I was so excited about finally getting out in good wind that I went for it. I was doing fine for a couple runs. My confidence was building and I was letting out the reigns a little bit at a time. It was not long before I was cruising at a pretty good clip, just on the edge of control. I was attempting to juggle all this new information in my head simultaneously. I thought, "stay upwind, keep the kite moving, and keep the board in control." Oh, oh, into my peripheral vision entered another rider coming right at me. Mild panic started to set in as I struggled to process it all and make a decision as to what to do next. My first thought was, "No problem, I can stay upwind of him and everything will be OK." "Shit, I am going too fast and drifting downwind." In an instant I was on him. Now all I could focus on was trying to keep my kite from crossing and crashing into his. Smack! My feet were taken right out from underneath me as my board crashed intoÖ you guessed it, his board! It was floating in the water near him and I was guided to it like a mid-air missile collision. Somehow I kept my kite aloft as I struggled to keep it from becoming a weapon of death. I managed to get back up on my board and limp back to the beach.
At that point, my only thought was, "I don't belong here with these experienced sailors." So, I decided to just do a down-winder and stay out of everyone else's way. After sailing a short distance, I noticed a spunky little guy trailing down the beach trying to get my attention. At first I thought it was some tourist. Then I realized it must be the guy I just had the run-in with. I made it back to the beach again and by this time it hit me. I must have damaged his board. Duh! You would think I would have realized that right away, but since there was no damage to my board it never entered my mind that his would be trashed. Well, it was and he was understandably upset. I reassured him that I would do whatever it took to make it right. He was just disappointed to have to cut short his first day on a brand new board. I bought him a new board and even though he was upset, he was pretty cool about it. I, on the other hand, was devastated. I was convinced the other kiteboarders would think I was a jerk, unsafe to sail with, and that I didn't belong on the water with them. I came as close as ever to quitting right then. But everyone was really cool about it and just doled out a little good-natured ribbing.
There were plenty of highs as well. I was stoked when I managed to get up on the board in the third hour of my lessons. It was bittersweet though, because I went too far and crashed the kite with a loud smack into the water while trying to get back to the beach. I was still offshore some distance and feeling tangled in my board leash and kite lines. I was a little bewildered about what to do next when I had my first experience with the look-out-for-each-other attitude of the kiteboarders. It wasn't long before Zack, one of the more accomplished and experienced kiteboarders deftly cruised by, yelled out, "Let go of the lines!" and grabbed the kite all in one swift, graceful motion. He came back after dropping the kite on the beach and offered to drag me in, but I felt the least I could do was swim my own ass back to the beach.
Then there is the thrill of getting big air. At first, I wasn't too sure I even wanted to try jumping. But, before long I was hopping tentatively here and there. Then it was boosting and crashing hard back to the surface. Eventually I learned to launch like a rocket and return with that magic, gentle floating descent. The next step for the serious "airheads" is to build a repertoire of tricks. I just started with a simple back roll, but it was enough to get me hooked on getting air.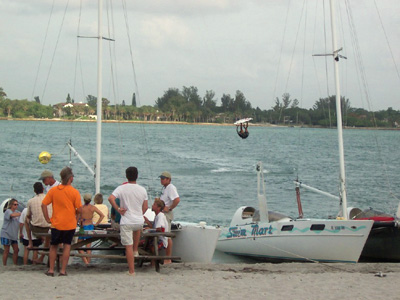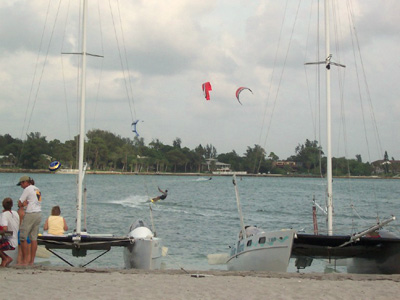 Early on, it wasn't hard meeting and getting to know the other guys. There is always someone willing to help launch your kite, catch your kite or retrieve a drifting board. At first, I didn't think I would fit in. I joked with my wife that I might have to get a tattoo. She didn't laugh. Every kiteboarder likes to talk about his passion and share the common frustration with the usual lack of wind. We all have our war stories and tales of glory enthusiastically unloaded on anyone willing to listen. In fact, a kiter's wife showed up once and groaned, "Do I have to listen to the same stories all over again?" We all laughed realizing that of course she was right. Then there was a pregnant pause with some uncomfortable shuffling, blank stares, and averted glances. We were fruitlessly searching our mental files for suitable non-kiteboarding topics; simultaneously discarding each one as uncool compared to kiteboarding. Finally, someone cleared his throat, broke the silence and offered, "So, they're forecasting 15 to 20 out of the northwest tomorrow, huh?" Relieved sighs followed with exclamations of, "Yeah, cool, should be ripping." Kiteboarders have their rituals too, like sharing a beer after a session. Each guy takes turns supplying the beer. It is a great time to learn the ropes regarding equipment, technique and the best places to sail for specific wind conditions.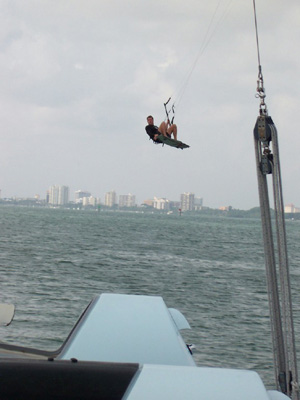 Like every other kiteboarder I know, it was not long before kiteboarding became an all out obsession for me. The highs are hard to explain, but a fluttering flag had the uncanny ability to make my heart skip a beat in anticipation of an awesome kite session. I know some guys have a hard time containing their evangelistic zeal. Dave, an enthusiastic kiteboarder from New Zealand, is a good example. I enjoyed just listening to his accent, so his zeal didnít bother me. But, before I got into kiteboarding, a friend of mine said, "I just have to avoid the guy because he has such a one track mind and is so persistent." Don't get me wrong, kiteboarding is a blast, but at some point it can begin to interfere with having a happy, balanced life. Relationships, family, work, and faith can suffer. I decided to take a break from kiteboarding for a while to clear my head and refocus. After I had a chance to rest and reflect, I found a more balanced perspective of life. I discovered I could be enthusiastic about kiteboarding without it being a detrimental obsession. The consistent winds of the approaching winter would provide ample opportunity to choose when to rip it up with a great group of kiteboarders.