My 2004 season in review - Charlie Remail
What a wild and long seasoned it was starting off the season in Alameda . I had no idea what the year would bring. I hooked up with a buddy, a partner in crime, another individual seriously affected by the wind like when you were a kid sticking your arms out the window of the car playing with the wind, with your palms, letting the wind rise and lower your arms feeling the power of the wind in and around your body. I've been playing with the wind all my life if not with my arm out the window with a remote-controlled airplane or a windsurfer or kite or two; I love the wind.
Anyway, me and this buddy headed out to a new season, season two - 2004. Wow, what a season! I got drunk on tule juice (Sherman Island water!), boosted in the rain, kited blood alley, hit alameda upsidedown and backwards, fell in love with the delta daze in my underwear (no wetsuit) yaaaaa...ripped up to the toll plaza, found butter water at H's Lordships and kited all over Brooks Island and felt 16 years old every time I touched my board in the air. I never know what to expect before I go out kiting. Will I get overpowered, will the wind die, will I break something, can i get back to the car? After a minute I know all will be fine, I am kiting. Sometime in the middle of the season I started to feel at one with the kite; it didnt feel like it was going to kill me anymore and I started to fly it without having to look at it all the time.
I started off the season by watching Ollie kite 35+knots at alameda. I held him down as he launched his 8m and he was all fired up to go. When I let him go he shot off the beach like a catapult, tea bagging off shore but after a little while, he got control of his kite and started to sail around. I did not go out that day but just watched Ollie play. I did later in the year go out at Berkeley in what seemed like very steady 25 knots with my 12 rigged up, and it took me 20 minutes to get off the beach; my kite seemed alive - buzzing and twitching around like a mad bee up there.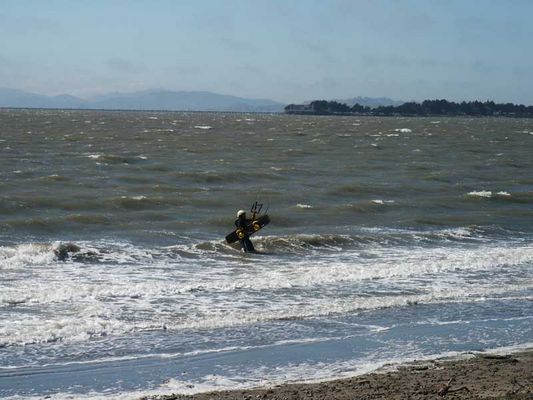 I read a lot about downwinders, but upwinders? After just a couple of sessions with Ollie I know we were going to TI by kite not car! I've seen Ollie charge up from Emery Point and bang through the hole in the pier just too pop out way upwind just downwind of TI. I swear he's looking for Chip up there or something. Season 3 will bring many more trips to the TI from Berkeley and maybe more now that Ollie's been from Berkeley to TI he might go to Crissy and back and we all get sucked up that vortex. He started to get better upwind rides after Ollie had L.M.G. make him a new board that goes upwind like a rocket, so I had one made and now I go upwind like a rocket too! L.M.G. asked us why do we want to go upwind so hard and fast? Well because
we can! Next stop crissy and back.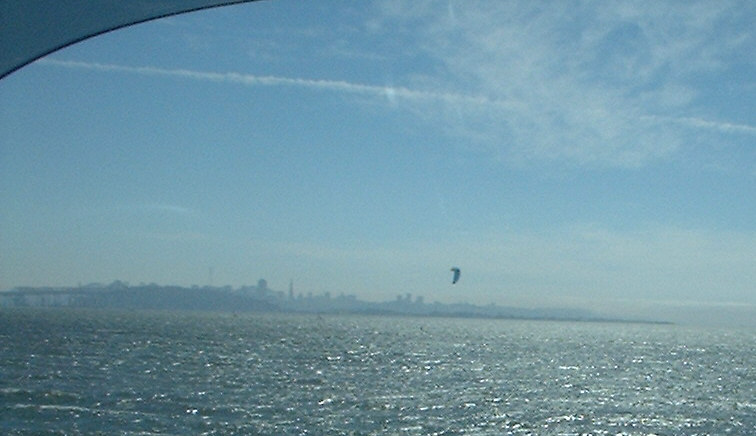 I remember kiting with L.M.G.. right before he left for his island, we were riding alameda at low tide, I was on my 16m with a fat board and L.M.G. was on a 10m with pully bar setup. We were just getting a ride in light winds and he was throwing something, I dont know what it's called, Slimholdyourbutttight, or Roastbeefholdthemayo flipthing? Hell, I don't know. Anyway he digs a toeside edge on an off-balance landing and splats to his back, dragging around in inches of water, laughing and yellling covered in mud and sand and he went on for a while. I dont know how he got that 10m to fly that day, but it was very funny for me to see. I could'nt throw anything that day; not enough wind, but like many days before, kiting around watching L.M.G. throw stuff was a ball. Makes me feel I can throw something. Feeling good. I knew I'd smile for 3 days after that one. Ii still smile when I think of it.)
Some might wonder if Ollie and I compete with each other? Well yes, I suppose we do, but not so much with each other as with the wind or the conditions. Kiting is very personal sport, and can also be very social. It is so much more fun and relaxing to kite with buddies then when your all alone. Kiting with buddies pushes the "bar", has a sense of safety and means more when you pop that grab in or boost to the moon and someone sees it... just riding with other people jacks me up.
I can't wait to ride season three. Come on spring!